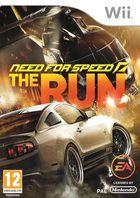 Need for Speed: The Run para Wii
Need for Speed vuelve un año más a Wii, abandonando las persecuciones de Hot Pursuit y apostando de nuevo por una historia cinemática. La de The Run nos lleva a una carrera por todos los Estados Unidos, de costa a costa, desde San Francisco a Nueva York. Nuestro protagonista tendrá que correr en carreras ilegales por ciudades de todo Estados Unidos, mientras le persigue la policía. Además de tener que quedar los primeros, configurar nuestro coche y explotar sus posibilidades, el juego también nos propone eventos cinemáticos en los que tendremos que interactuar con el escenario.
Fecha de lanzamiento: 17/11/2011
Vídeos de Need for Speed: The Run
Imágenes de Need for Speed: The Run
Noticias de Need for Speed: The Run
14:34 7/11/2011 | Con todos los vehículos de múltiples marcas.
---
8:05 3/11/2011 | Es el director de, entre otras, Transformers.
---
14:48 11/10/2011 | Habrá un capítulo nuevo cada semana.
---
12:04 5/5/2011 | Mezcla entornos urbanos y naturales.
---