Compartir
Resident Evil: Chronicles HD Collection PSN para PlayStation 3
Este título incluye las revisiones en alta definición de Resident Evil: The Umbrella Chronicles y Resident Evil: The Darkside Chronicles, dos títulos de la saga que se lanzaron originalmente en Wii. Ambos títulos son compatible con PlayStation Move y nos permitirán jugar solos, o acompañados por un amigo en el modo cooperativo, para revivir la historia de Rebecca Chambers, Chris Redfield y Jill Valentine en The Umbrella Chronicles, o escapar de las pesadillas de Raccoon City mientras controlamos a Leon Kennedy y a Claire Redfield en The Darkside Chronicles.
Fecha de lanzamiento:
27/6/2012
Juegos relacionados con Resident Evil: Chronicles HD Collection PSN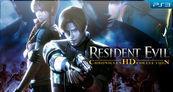 Autor: Ramón Varela | 26/6/2012
Descubre toda la verdad de Umbrella en las crónicas remasterizadas para PlayStation 3 y Move.
Última: 5:20 13/7/2012
---
---
---
---
---