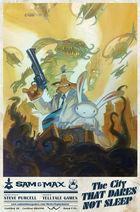 Información del juego
Toda la información sobre
Sam & Max: The Devil's Playhouse - Episode 5: The City that Dares Not Sleep
para PC.
También conocido como Sam and Max: The Devil's Playhouse - Episode 5: The City that Dares Not Sleep, Sam & Max Episode 305: The City That Dares Not Sleep.
Fecha de lanzamiento: 31/8/2010
16:32 7/9/2012 | Podremos encontrar descuentos en las tres temporadas
---
11:59 12/3/2010 | El 15 de abril regresan sus aventuras.
---
La locura de Max se desata hasta límites insospechados en el último capítulo de la temporada.
Opiniones de los usuarios